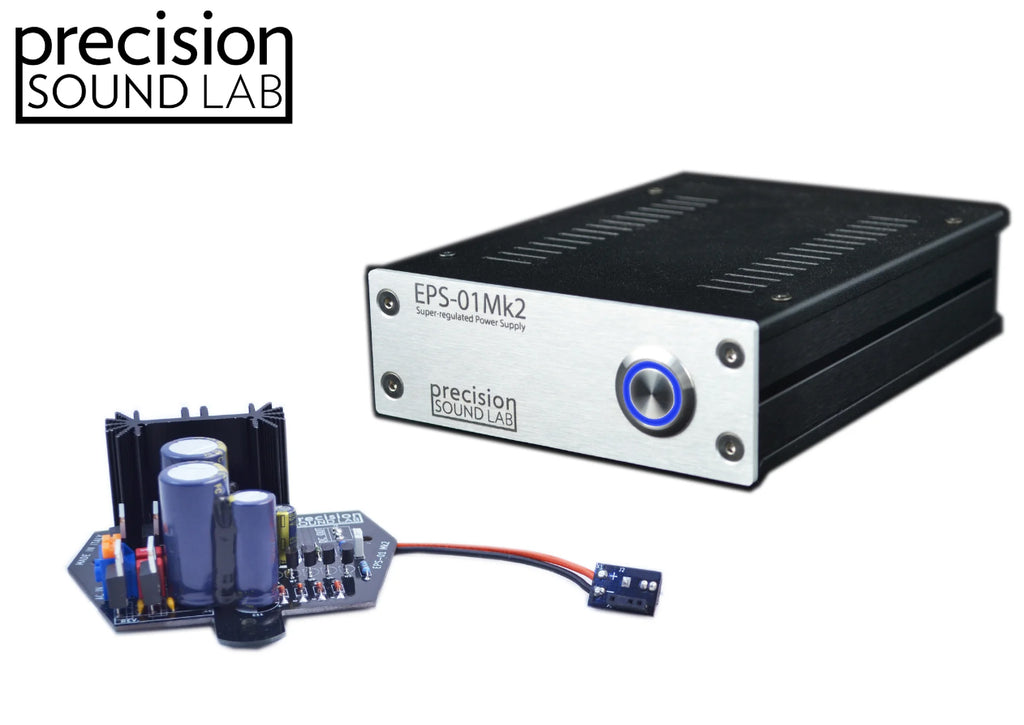 Precision Sound Lab
Technics SL-1200 / SL-1210 (Mk2 to Mk6) EPS-01 MarkII - Upgraded linear power supply
In Stock!
---
Please note

: 1200s.com is the exclusive distributor for Precision Sound Lab in the USA / Canada / South America. For all other countries please make your purchase on Precision Sound Lab's Website.
EPS-01 Mark II - Upgraded linear power supply for Technics SL-1200 / SL-1210 (Mk2 to Mk6)

This unit is Dual Voltage 110v/220v.
Our state-of-the-art external power supply is one of the most important upgrade for the Technics SL-1200 / SL-1210 (Mk2 to Mk6).
Ultra fast rectifiers provide to feed the turntable with constant DC voltage with very low ripple and a dramatic improvement in audio performance. Generously oversized toroidal transformer (mounted in the external case), Panasonic FC audio grade capacitors, 1% tolerance metal film resistors and selected and matched components with tight tolerances make it one of the best external power supplies that allow the 1200 "to fly" and undermine considerably higher rank (and cost) turntables.

All the components are dimensioned at least 4 times the maximum absorbed current by the turntable, this ensure a virtually unlimited life to our EPS system.
Thanks to the removal of the original old design transformer the sound backstage earns both cleaning and depth, due to removal of the primary source of mechanical vibration and electromagnetic interference.
The SL-1200 has three problems with its power supply and regulator:
1) the transformer mechanically hums and this is audible through the cartridge,
2) the transformer has an electromagnetic field also audible though the cartridge
3) the existing power supply dips on some motor demands giving variable and poor dynamics to the feedback system. The internal regulator is way short of gain, so in fact it doesn't really regulate much at all. The motor often demands more current and the existing regulator responds by dropping the voltage!
PATENT PENDING

Click for installation video.

5 YEARS WARRANTY (erratic installation damages are not covered)

Conceived, designed and built entirely in Italy.

Code: EPS-01 Mark II

Weight: Internal Unit 100gr. - External Unit 1,4kg

External unit dimensions (WxDxH) 17x13x5 cm

Sales Unit: single piece
---
Share this Product
---
More from this collection