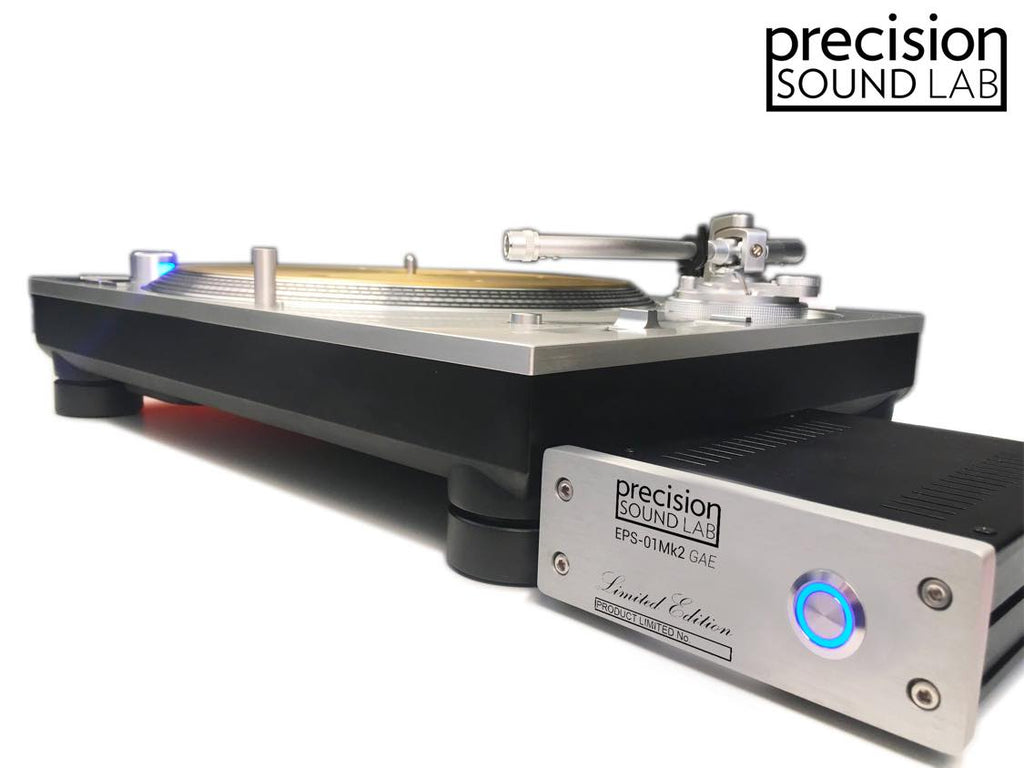 Precision Sound Lab
Technics SL-1200 / SL-1210 GAE EPS-01 Mark II - Upgraded linear power supply
In Stock!
---
Please note

: 1200s.com is the exclusive distributor for Precision Sound Lab in the USA / Canada / South America. For all other countries please make your purchase on Precision Sound Lab's Website.
This is a Limited Edition version, the same serial number of your turntable will be placed on the front panel of the external unit.
This unit is Dual Voltage 110v/220v.
This Exclusive unit will be supplied to SL-1200 / SL-1210 GAE owners only, for this reason we will require proof of real ownership after your order.

Lead time: ETA Two Weeks from time of order.
One of the most important upgrade for the new Technics SL-1200 / SL-1210 GAE series.
Several reviews reported a "shadowy" image on listening to the new series of Technics turntables.
Due to mass economy and worldwide voltage differences Technics adopted a SMPS (Switching Mode Power Supply). Even if the limit of old transformer construction were exceeded by Technics with SMPS our new MOSFET power supply finally gives all the performances that this turntables deserve.

We have reported by our customers that original switching power supply induces a very audible noise when you run it with a hi-gain or tube pre-phono, our EPS is the definitive solutions for this hassle.
Ultrafast rectifiers provide to feed the turntable with constant DC voltage with very low ripple and a dramatic improvement in audio performance. Generously oversized toroidal transformer (mounted in the external case), Panasonic FC audio grade capacitors, 1% tolerance metal film resistors and selected and matched components with tight tolerances make it one of the best external power supplies that allow the 1200 / 1210 to express its huge potential.
Our custom PCB is a heavy-duty double layer 2oz high quality fiber with ground plane to provides a low impedance ground reference, shields against interference and allows to fit in the original PCB holder of the turntable.
Completely discrete design, no IC's to allows superior performance.
Voltage calibration is made by military grade components, not via a cheap trimmer as in other product poorly designed and not intended for Technics turntables from origin.
NO SOLDERING REQUIRED!    Just use the supplied screwdriver.
The change is fully reversible and does NOT require any invasive modifications to the layout of the circuits such as traces cuts or external jumpers.
Aesthetics remains the same as our kit use original connections and screws.
Upgraded version with hi-grade power connectors with gold contacts and braided sheath covered cable.
Opposite to other cheap external PSU our kit maintain regulation board inside the turntable to allow quick regulation change, and we do not use cheap design based on LM317 or similar poor regulation board.
External unit has a massive 10mm thick aluminum front panel, silver anodized to perfectly match the look of your SL-1200 / SL-1210 GAE.
---
Share this Product
---
More from this collection